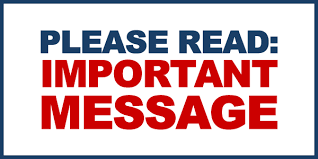 Important Message
Joseph Sykes
Thursday, December 17, 2020
Dear LCSD Parents and Guardians:

L E E COUNTY SCHOOL DISTRICT NO. I
161 Walnut Marianna, AR 72360
Telephone (870) 295-7100
Willie Murdock, Superintendent
December 17, 2020

COVID19 has really impacted the lives of all of us. It has negatively impacted our student lives as many of you well know in the state of AR, but particularly in Lee County.
Because of the COVID19 pandemic, you may have chosen to do all-virtual instruction for your child for the first semester. Now that the semester is ending, we have evidence that many of LCSD virtual students have not been engaged in the learning and are at risk for failing. The district has seen that many students are not connecting virtually, for various reasons, and are not doing well academically in their coursework.
Beginning, January 5, 2021, the beginning of the next semester, your child will be required to attend on-site classes at the school if they have less than a "C" average and/or are at risk for failing a course, or they may be at risk for being retained in the same grade level next year.
The school principal and/or instructional team will be reaching out to you. If you have concerns that the district is not safe, I will mention that we are following ADH and CDC guidelines for safety; and most of the research done so far indicates schools are safer than most places that many students find themselves in.
Please believe that we want the best for your child as you do. Please send them onsite next semester, if they meet any of the criteria listed above, so that we can provide the best academic support possible.
Thanks in advance for your continued support, and for keeping your child's academic needs at the forefront.